< Retour à la liste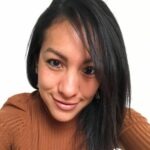 Ixsel Sanchez
Doctorante
https://www.linkedin.com/in/ixel-sanchez/
https://www.researchgate.net/profile/Ixel-Sanchez
Thèmes de recherche 
I'm a doctoral student researching the link between creativity mindfulness meditation, and Flow in virtual environments. My thesis project is in collaboration with the French company, Naval Group.
Key words : mindfulness, meditation, virtual reality, creativity, flow.
Contrats de recherche
I'm working in collaboration with Naval Group under a CIFRE contract.
Publications
Sánchez-Sánchez, I., Sánchez-Marín, F.J. y Sin-Villagomez, R. (2011). Diferencias de género en la orientación espacial en un ambiente virtual. Revista Mexicana de Psicología, 28, 211-216.
Communications
Sanchez, I. (2019, August). Creativity in Virtual Environments: Literature Review. [Poster presentation]. Creativity Conference, Southern Oregon University, Ashland, OR.
Enseignements
"Culture in the Workplace" level M2 in collaboration with Dr. Lubart